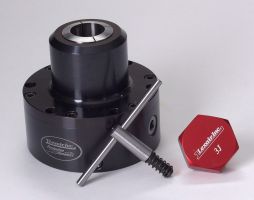 The Lexair Wrench Operated line features a design that requires no drawtube cylinder or collet closer as they are manually operated via a standard chuck key. These chucks feature a flat back and can be used in any application on lathes, mills, grinders, etc. for all your machining needs.
Our chucks can be directly bolted to the table for applications involving mills, machining centers, and drill presses. Lathes, indexers, and other rotating spindle equipment will require an adapter plate which Lexair can provide from an extensive line covering many brands and types. This line features concentricity adjustment as a standard feature allowing the operator to obtain the best possible part accuracy. These units are ideal for use on the new hybrid CNC/manual lathes.
Lexair can supply precision machined standard collets, master collets and pads, emergency collets, serrated collets plus uniquely shaped collets by special order. In addition, bar stops and parts ejectors are available providing us the ability to be your one stop source for all your machining needs.